IQ Option Full Guide
IQ Option are a leading online broker offering binary options, CFDs, cryptocurrency and forex trading. Our detailed review includes a full run down of the trading platform, review of the mobile app, plus info on how to use the demo account effectively and tips on strategy and options. Join millions of other traders and login today.
General Risk Warning:
The financial products offered by the company carry a high level of risk and can result in the loss of all your funds. You should never invest money that you cannot afford to lose
Trading Platform
To provide clients with access to financial markets and online trading, IQ option developed their own bespoke trading platform and range of instruments. The interface and features of the platform are not what most binary traders are used too, as it is modelled on the more advanced systems used by the spot forex trading industry.
The IQ Option software includes tools such as stop losses, and take profit levels – features not available at 'standard' binary operators.
To add trader risk management and trading strategy choices, the firm also created a 'Position top-up' feature. This is a mechanism which allows trades to be kept open beyond the stop loss.
Strategy Tools
The strike price and trading buttons are clear and intuitive, as are the price graphs and charts. Navigation is simple, traders can easily switch between assets and markets. On top of that, the whole layout is configurable and customisable – so traders can move multiple graphs or analysis tools where they like in order to suit their trading strategy.
The customisable elements do make this one of the best trading platforms in the industry.
The platform is available as a web-based hub, or alternatively, traders can download a version for either PC or Mac. The download is fractionally quicker. There is also the mobile platform. All the platforms are reliable, but the PC download has the quickest trade execution times.
At present, there is no Metatrader 4 (mt4) integration.
It is clear then, that the software is one of the most sophisticated trading platforms around in the binary industry, particularly the over the counter (OTC) brokers.
The website is available 24/7 so there are no 'opening times'. Assets will only be available to trade when the relevant market is open, however. So many forex pairs are traded around the clock during the week, but US stocks can only be traded when the NYSE is trading.
Charting
Apart from having a refreshing user interface, the trading platform allows traders to change the view of their chart from a choice of four different layouts:
Line
Candlestick
Area
Bar
The timescale for the bar and candlestick charts can be chosen from an impressive 18 different intervals – and multiple graphs can be used, in order to confirm trends over more than one time frame.
In addition, there are also various other tools such as a line drawing tool which traders can use to plot their own trends on the live charts. The latest updates also added a wealth of technical analysis features too. Multiple indicators such as Bollinger bands, moving averages or relative strength index (RSI) can be laid over the chart. Nearly 20 different indicators are available.
The charting enables active traders to use price action patterns to spot opportunities across different time frames, making correct prediction more likely.
Perhaps one of the most useful features about the trading platform is the ability for traders to make multiple trades on the same graph. This is especially useful when you want to employ more sophisticated trading strategies or trade signals. Turbo and Martingale strategies are easier to implement when you can monitor open positions on the same chart.
Trade size ranges from just $1, up to a maximum investment of $10,000 on the classic options.
Forex And Crypto Products
The newer products such as forex and cryptocurrency trading display slightly different options based on the market being traded. For example, the forex trades will bring up leverage and stop loss features. Assets such as Bitcoin or Ethereum, traded via contracts for difference, do not have an expiry time. They do however, have a stop loss and take profit feature. The new forex offering also makes weekend trading possible.
The look and feel remains the same throughout the trading range however, and all the relevant information is available to the trader. So a trader used to binaries can still feel at home if they want to trade forex.
Mobile App
The IQ Option mobile trading app follows the development of the bespoke trading platform, and delivers a seamless mobile user experience. The trading area looks the sam, and the screen, buttons and 'look and feel' match those of the full website, or desktop download.
The mobile application has been delivered as a tailored product for each operating system, so the IQ Option Android app, has been developed solely for android devices. Likewise, the iOS app has been written with the iPhone or iPad in mind, and ensures it gets the most out of those devices. It is the sort of attention to detail that IQ are becoming known for.
Apple's recent changes regarding binary related applications have been swiftly dealt with by IQ Option. They have redeveloped the iOS version to adhere to the new rules. Their ability to adapt to the changing investing landscape is reassuring. The new version includes forex and CFD trading – and cryptocurrency trades will also be available once released.
There is also an 'IQ Option for Windows' version, as well as the android and iOS versions. The download buttons below will take you straight to Google Play or the App Store, and the most up to date version of the mobile trading app:
Trading Costs (Spreads, Commission)
When comparing brokers, you need a broker that is transparent with their fees and costs. To judge what trading at IQ will cost, you need to consider:
Spreads – The price gap between buy and sell values. This varies based on things like volatility, asset, liquidity and even hours.
Withdrawal Fees – There are no withdrawal fees on most payment service providers. Bank transfers do have a charge of $31 (or currency equivalent).
Commission – On cryptocurrency trades, commission of 2.9% is be levied. Other markets do not have commission at all.
Swap Fees – Fees are charged for certain trades held overnight. They vary from 0.1% to 0.5% and are higher when left open over the weekend.
Dormant Account Fees – Where an account is inactive for 90 days, a charge of €10 (or currency equivalent) will be made each month until the balance is zero.
Deposit & Withdrawals
Deposits can be made using a range of options – these will vary based on the user country, but popular methods include debit and credit card, e-wallets such as Skrill and Neteller and even crypto currencies via the Hodly service. Bank transfers via debit card remain the most popular option for European based traders.
IQ Option also recently introduced AstroPay to facilitate payments from regions that may have had fewer options in the past, such as Brazil, Argentina or Vietnam. In addition, IQ now also accept bank transfers from a wide range of Asian banks:
Thailand – Bangkok Bank, Kasikorn Bank, Krung Thai Bank, Siam Commercial Bank, Bank of Ayudhya, Government Savings Bank, TMB Bank.
Philippines – Help2Pay
Indonesia – Central Asia, Rakyat Indonesia, CIMB Niaga, Negara Indonesia, Mandiri.
Vietnam – Vietcombank, Bank for Investment and Development, Techcombank, Vietin Bank, Asia Commercial Bank,  Sacombank, Donga Bank, Eximbank.
Malaysia – Supported banks include: Maybank,RHB Bank, Public Bank, Hong Leong Bank,  CIMB Bank, AmBank
South Africa is also supported via range of new payment methods including Perfect Money. In fact, Perfect Money caters for a huge range of regions, including South America (Argentina, Brazil and Colombia)
China Union Pay provides a payment solution for traders in China, Taiwan, Hong Kong or Macao
Safe
Deposit errors are rare, and the support desk can usually help if users encounter issues. It is safe to deposit with IQ Option.
Withdrawals can be made using the same list of methods. Verification is often required before a withdrawal method can be used, and withdrawal proof remains in the user area for the lifetime of the account for auditing etc.
Account Type
The standard trading account requires just the minimum initial deposit of $10. The basic account includes all the option types, withdraw options and functionality as the higher level accounts.
The firm offer a VIP Account. In order to get a the VIP account type, a trader needs to deposit $3000 or more in one deposit. Benefits to VIP status include:
Higher Payouts (For example, +3% on FTSE or Google trades)
Entry to larger tournaments, with prizes up to $100,000
Educational materials exclusive to VIP account holders.
Payouts
In term of returns on investments, the standard payouts offer very competitive rates. Under the right circumstances, traders can earn up to 91% payout in the case of a successful trade. These payouts will vary based on the asset and expiry time selected. The 'headline' payout of 91% is among the best offered in the industry. Note the term 'profit percentages', does not imply guaranteed profits, simply the profit made for a single trade when it is successful.
Forex And CFD
Payouts on products such as Forex and CFD trades will depend on the performance of the underlying asset. IQ provide the sort of risk management tools you might expect when trading these tools. They include stop losses and user defined leverage (which can be set to zero). The new products move IQ Option into the leagues of major global brokers, and their offering is certainly up to that level. They even offer direct access to bitcoin and ethereum trades – which many larger brokers do not.
The spreads on foreign exchange and CFD trading are competitive too. So the costs or fees of doing business with IQ are low, and certainly on par with the larger, established online brokerages. The free practise account is a good way to experiment with other asset types, risk free.
Promotional Code
IQ previously offered monthly promo codes for new customers as a welcome offer. These were paid as a deposit match, and the level would 'scale' based on the size of the initial deposit. These types of offer have been withdrawn following regulatory changes however. As a responsible regulated broker, IQ no longer offer this type of incentive. Reviews still referring to bonuses are likely to be out of date.
Is IQ Option A Scam?
IQ Option is licensed and regulated by CySEC, but they have also sought to register with other regulatory bodies (full details can be found on their website). They are a 'legit', reliable business. Their affiliate network all market responsibly and ensure the nature of trading is reflected accurately. They are licensed by the FCA in the UK as the regulatory landscape recently changed there.
Trading with IQ Option is legal around the world, from India to Ghana, Vietnam to the UK.
History
Established in mid 2013, the brand is – in our opinion here at BinaryOptions.net – one of the most reliable and innovative binary brokers in the industry. Their reputation is also enhanced by various awards that they have won from a range industry reviewers. They list their full array of awards on their website – The list of awards quoted on their website are reputable comparison sites and confirm their credibility. IQ Option is safe and not a scam.
Our user satisfaction feedback is positive for IQ – Users have few complaints and use the IQ option platform for many months and years. The forum response is also positive.
Problems of site connection (site "not working" or "not loading") is often a local issue for the user rather than a genuine issue with the platform. Likewise 'server down' or similar errors are normally the client end rather than a genuine problem at IQ Option
The firm operates in a very transparent way, in order to maintain their reputation and user confidence, for example:
Free Practise / Demo Account – This runs in parallel to the real money account and is not time restricted. IQ Option are happy for traders to hone their skills for as long as it takes, and have faith in their trading platform to maintain trader retention. A demo download is available, but traders can also simply use the full, mobile friendly, website. The demo balance can be reset by contacting the support teams.
Offers – Deposit match bonuses have been dropped entirely due to CySec and ESMA rules. The regulator deemed this type of bonus as being high risk, and as a regulated brand, IQ have stopped offering them.
Hedging – IQ are clear on how and when they will hedge their own positions. This should act to reassure traders who fear 'over the counter' brokers only want to see traders lose. IQ actively manage their risk.
Support – Support is offered in a range of languages and includes live chat for quick resolution of any complaints. Users needing to Unblock, Delete or Close an account need to contact telephone support.
News – Event Calendars and brand news is fed through to the user area.
Regulation
As indicated on their website, IQ Option Europe Ltd is operated by Infofield Premier Ltd (Registration No: HE324593) and Investlab Holdings Ltd (Registration No: HE327751). Since Investlab Holdings Ltd is regulated by CYSEC (License Number: 247/14), this means traders trading on the platform are also protected under the provisions of the MiFID.
Open Trade Network
IQ Option started the roll out of their blockchain based cryptocurrency exchange. Called the Open Trade Network (OTN), it is built on the Ethereum blockchain platform.
It delivers a stand alone cryptocurrency wallet and exchange. Designed to meet the needs of a growing market, and regulators who will want to oversee the operation. The system is due to be live in early 2018.
IQ Option is not raising money for this project through an ICO, and this presents an opportunity for traders. Instead OTN coins will be awarded to traders, wallet users and token holders as an incentive to use the platform and provide liquidity.
IQ Option will recoup their investment through a portion of coins held for that purpose. The total number of coins to be issued is 100 million with 42 million going to the traders and wallet users over the next 2 years. Once the platform is live OTN tokens will be tradable and sellable on the open market.
This is a significant development. This blockchain innovation reflects the major disruptive influence IQ are trying to generate in the finance sector as a whole.
Demo Account
IQ offer the best demo account terms in the industry. It is a No deposit demo account. The balance can be restored to $1000 as often as required, and the practice account is useable long term, there are no time restrictions.
The demo, or virtual, account can also run alongside a real money account – not "instead of". This allows real money traders to change into the demo account, and trial a new strategy or strategies without risking real money. It is the most flexible demo account available and is entirely risk free. This offering, coupled with the low minimum deposit, is why this broker have grown so quickly. It is also why the brand attracts beginners and novices. It demonstrates a real confidence that they have the best trading platform, and know that once traders have used it – they will stay with them.
Countries
IQ offer trading in a range of countries, and also support across multiple languages. In 2014, the firm operated in 18 countries – in 2016 it was up to 178. There are however, some countries where trading is not possible with IQ due to regulations or local laws. So traders from Canada, USA and Australia are not permitted to open accounts at present.
Having started operating mainly in Europe, the UK (United Kingdom) is one of the largest trader 'bases' for the brand, followed by other European trading hubs, such as Germany and Sweden.
The firm are also growing very quickly in Asia, with binary becoming legal in India. They have recently added multiple regions to their list, including:
Malaysia
Singapore
Thailand
India
Pakistan
Philippines
Other areas of growth include Africa, where Ghana and Nigeria are seeing large numbers of new traders. This growth is aided partially by a 'softer' regulatory regime. With responsible brands such as IQ Option, this actually works well. Similar reasons have led to marketing pushes in UAE, Brunei and even Japan.
Traders in these regions are now able to register at IQOption. The login process is very quick, and the demo account sign up requires only an email address. Beyond the login screen, traders will need to make a deposit before trading for real money. The minimum deposit however, is just $10 – among the lowest in the industry. The minimum trade is equally low, at just $1 per trade.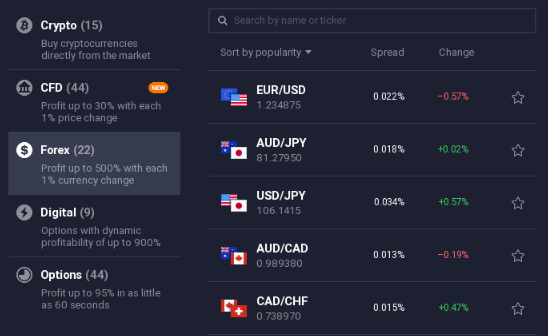 Tournaments
There are regular trader tournaments across the trading platform – each carries their own set of terms and conditions. These are generally a competition based on trading success with a leaderboard. They are a method by the broker to encourage trading, so the tournaments are usually decided via the amount of total profit over a given period.
They offer a great way for traders to compete against each other, and create a lot of interest. The terms will often vary – so one tournament might focus on short term options, while the next might look at a specific asset class, like forex.
Often there are substantial prizes for the winners of these competitions. These range from cash rewards, to more unique prizes, such as the recent Aston Martin race day experience. These gave winning traders the chance to enjoy a race day in one of the sponsored Aston Martin Racing cars. These tournaments really increase the customer friendly feel promoted by the firm, and they are worth looking into.
Strategy
Specific strategies for use at IQ Option are difficult to detail due to the vast options available. From rainbow strategy to technical analysis a trader's choice is endless. A winning strategy for eur/usd may not work for trading oil, and learning lessons from a 60 second strategy may not improve results for 5 minute or longer trades.
The demo account is a great place to experiment and find winning strategies however. Every trader will need to find their own system, and the unlimited demo at IQ gives traders a better 'sandpit' than vs Plus500 for example.
Binary vs Forex
The binary vs forex debate is another complex argument when looking at strategy – it will always come back to the trader, their risk appetite and their favoured length of trade. Our strategy section may contain useful ideas, as will the forum. Our blog entries often contain trading tips, but how they are implemented or acted on is of course up to the trader.
Strategy elements like money management are really a question for each trader, as only you can know your risk appetite.
The last point on strategy is that there is no such thing as a 'no loss' system. Some trades will win, some will lose, but a winning strategy is profitable in the long term. Anyone offering 100% accuracy (or anywhere near) is very likely to be dishonest. Discussions on Reddit or Youtube are extremely unlikely to be legitimate traders giving away winning systems for free!
Signals And Automated Trades
At present, IQ do not deliver signals to traders. There are sentiment indicators which give a feel for market sentiment, but no automated signals.
Expert advisors are often a feature promoted at other brands, but ultimately an employee of the broker acting on behalf of the trader is unlikely to be impartial. IQ do not offer an expert advisor service on a standard account.
The firm prefer to enable and educate their traders to make their own trading decisions.
FAQs
What is the minimum deposit for opening a trading account?
The minimum deposit at IQ Option is $10,€10 or £10.
Is the IQOption platform reliable?
Yes. The website, desktop download and mobile app all boast reliability. IQ do however, recommend the desktop software for the quickest execution times.
What trading platform do IQOption use?
IQOption use a proprietary trading platform. The platform is constantly developed and improved, both to add new features, but also new markets. The charting facility on the platform is very advanced.
Do IQ Option offer leverage?
Yes. While the maximum leverage offered by IQ Option is 1:500 for non-regulated members, EEA traders will see leverage capped at 1:30. It is possible to open a professional account to have those restrictions lifted.
IQ Option also offer 'Multiples' on certain assets – mainly cryptocurrencies. These act much like additional leverage, in as much as a move in the underlying price is multiplied by as much as x50. See the IQ Option website for details.
How fast are withdrawal requests processed?
Withdrawal requests at IQ normally take one business day. There will then be 2 or 3 business days before the funds hit the account, depending on the withdrawal method requested.
Are IQ Option Regulated?
Yes. IQ Option are regulated by CySec
Is IQ Option Safe?
Yes. They are a legitimate, regulated broker.
Do IQ Option accept Paypal?
No. At present the best e-wallet options are Skrill and Neteller. Perfect Money has also recently been added, as has China Union Pay for traders in Hong Kong or Macao.
Review Conclusions
Pros
• High Returns of up to 91% payout in case of successful trade
• Low Minimum Initial Deposit Requirement – open account with $10
• Regulated Broker with CySec
• Cutting edge Trading Platform
• Direct access to Crypto markets such as bitcoin
• Secure account verification
• Quick withdrawals
Cons
• Smaller range of markets than some rivals on forex and cfd
• Self build robot / auto trading feature removed.
• No MT4 integration
Complaints
Some critical users of IQ point to the site not loading, not working or being offline. These issues are generally at the end of the user rather than the platform. The website boasts impressive uptime statistics and they have a strong motivation to ensure their platform is open for business! It is rare for the site to be unavailable or inactive and we have never encountered such issues when connected via a reliable connection.
Registration
The IQ Option registration process just requires an email and only takes a few moments. Once verified, you then have access to the demo account, and the real money markets. In order to trade on the real account, a deposit will need to be made. The deposit process is simple, much like the register process. The minimum is currently $10, and the smallest trade is $1 per option.
Contact Details
IQ Option offer a variety of contact methods:
Email – [email protected]
Telephone Support – Offered in 18 countries including Australia, India, Thailand, Brazil, Germany and Spain (Helpline details on the site)
Group Details: Registration No. HE327751
Address: Yiannis Nicolaides Business Center, Agiou Athanasiou Avenue 33,
4102, Agios Athanasios, Limassol, Cyprus
Customer support can be accessed via telephone, e-mail or live chat. Customers are supported in over 20+ languages.